Creamy courgette
and leek soup
Serves 4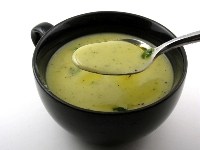 Ingredients
1 tbsp olive oil
2 leeks (sliced in half lengthwise, washed and cut in small pieces)
2 courgettes (sliced)
1-2 strips of wakame (rinsed and cut into pieces)
1 tsp dried basil
1 dessertspoon white miso, mixed in a little water
Method
Heat a cooking pot, add the olive oil, the leeks and a pinch of sea salt. Saute uncovered for 5-6 minutes.
Add the rinsed wakame, courgettes, dried basil and 2 cups of water. Cover and cook on a medium flame for 15-20 minutes.
Blend to a smooth consistency, adjusting the liquid if necessary. Add some white miso to taste.
Serve hot with some croutons.