Parsnip chips
Serves 6
Takes 20 minutes to make and 25-30 minutes in the oven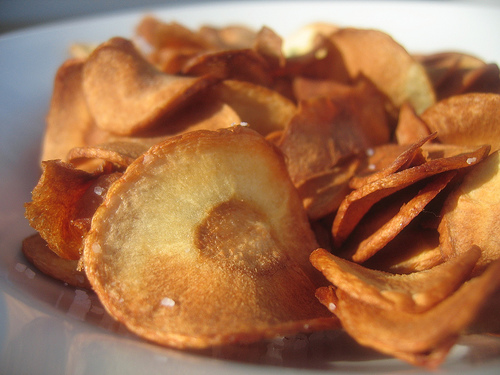 Ingredients
600g parsnips

2 tsp olive oil
Method
1. Preheat the oven to 160°C/fan140°C/ gas 3.
2. Using a swivel blade peeler, peel long strips from the parsnips (discarding the peel) and place in a large bowl with the olive oil. Season with pepper and toss well.
3. Arrange the parsnip strips in single layers on 3 baking trays. Roast in the oven for 25-30 minutes, turning halfway, until golden and crisp.
Nutritional information per 100g

Calories

72

Fat

2.1g

- saturates

0.3g

- monounsaturates

1.2g

- polyunsaturates

0.3g

Protein

1.8 g

Carbohydrates

12.4

- sugars

5.6

Sodium

0.01g