Jane Philpott MA (Oxon), MSc, PhD
Plants not Pills
Inspiring plant-based nutrition for health and well-being
with knowledge, integrity, kindness
My name is Jane Philpott. I live in Somerset, UK, and my purpose is to empower and encourage you to live a long, happy and healthy life by changing how you eat, drink, move and think.
Western medicine is almost unbeatable when it comes to treating trauma and acute health problems. It struggles, however, to provide genuine cures for most of the chronic diseases which cause loss of healthy years of life, and ultimately death, in industrialised societies.
At best, western medical approaches manage symptoms of chronic disease; they do not address underlying causes. This results in much unnecessary suffering and cost.
Indeed, many chronic health conditions would not arise in the first place if more people understood what causes them.
Everyone should know the truth about their health and be in a position to make informed choices.
So I am on a mission.
But more of this in a minute. First a bit about me.
As a young child I watched with horror as images of the famine in Ethiopia appeared on the television and in newspapers. Everyone should have enough to eat, I thought, and I vowed to solve the world food problem when I grew up.
I worked hard at school and won a place at the University of Oxford to study biological sciences, specialising in agriculture. From there I moved to Imperial College, London, where I obtained an MSc in Crop Protection, with Distinction.
Whilst studying for the MSc, I caught the research bug and decided to continue in academia. I was fortunate to be awarded a grant by the UK Department for International Development for a PhD, which involved laboratory research at the University of Bristol and field work in Sumatra, Indonesia.
After completing my PhD, I spent nearly 14 years in senior leadership roles in research and development in multinational agribusiness, focused on increasing global production of food.
Despite working on food production for over 20 years, I had never considered the effect of food on my health.
But that was to change when I completely burnt out trying to juggle a high-powered career and regular international travel with new motherhood.
I developed a raft of strange symptoms and doctors referred me for a MRI scan to rule out multiple sclerosis.
I had to wait 18 weeks for the scan and in that time, out of desperation, began to read scientific papers about nutrition and health.
This was a revelation.
I learnt that not only can the right food prevent disease, it can also treat it.
I was amazed by what I learnt and wondered how I had managed to spend so long as a biologist without knowing even basic facts on this subject.
Until I began reading the scientific literature I didn't know, for example, that you can actually eliminate symptoms of type 2 diabetes, arthritis, heart disease, fibromyalgia, ulcerative colitis and a whole host of other chronic conditions by changing your diet.
Not only this but some people have even managed to recover from serious diseases like multiple sclerosis and cancer by altering what they eat, drink and think.
I found that mind blowing.
Happily, the MRI scan showed no abnormalities but I was hooked on nutrition and decided to study it further.
In what some deemed a radical move, I quit my job in industry and moved with my husband, Paul, and our children to the countryside.
Soon after this, I began a 2 year training course in whole food cookery with Montse Bradford at the School of Natural Cookery, completed qualifications in dietary education and motivational coaching, and began studying for a degree in nutrition.
Along the way I also explored Eastern approaches to nutrition, health and well-being, including Ayurveda, Chinese medicine, yoga and meditation.
I am often asked what I eat and the answer is simple.
PLANTS
A fresh, unprocessed plant-based diet comprising: whole grains, such as brown rice, quinoa, buckwheat, barley, millet; green leafy vegetables; root vegetables; round vegetables; sea vegetables; vegetarian proteins, such as beans, pulses, tofu, tempeh, seitan; nuts; seeds; and fruit.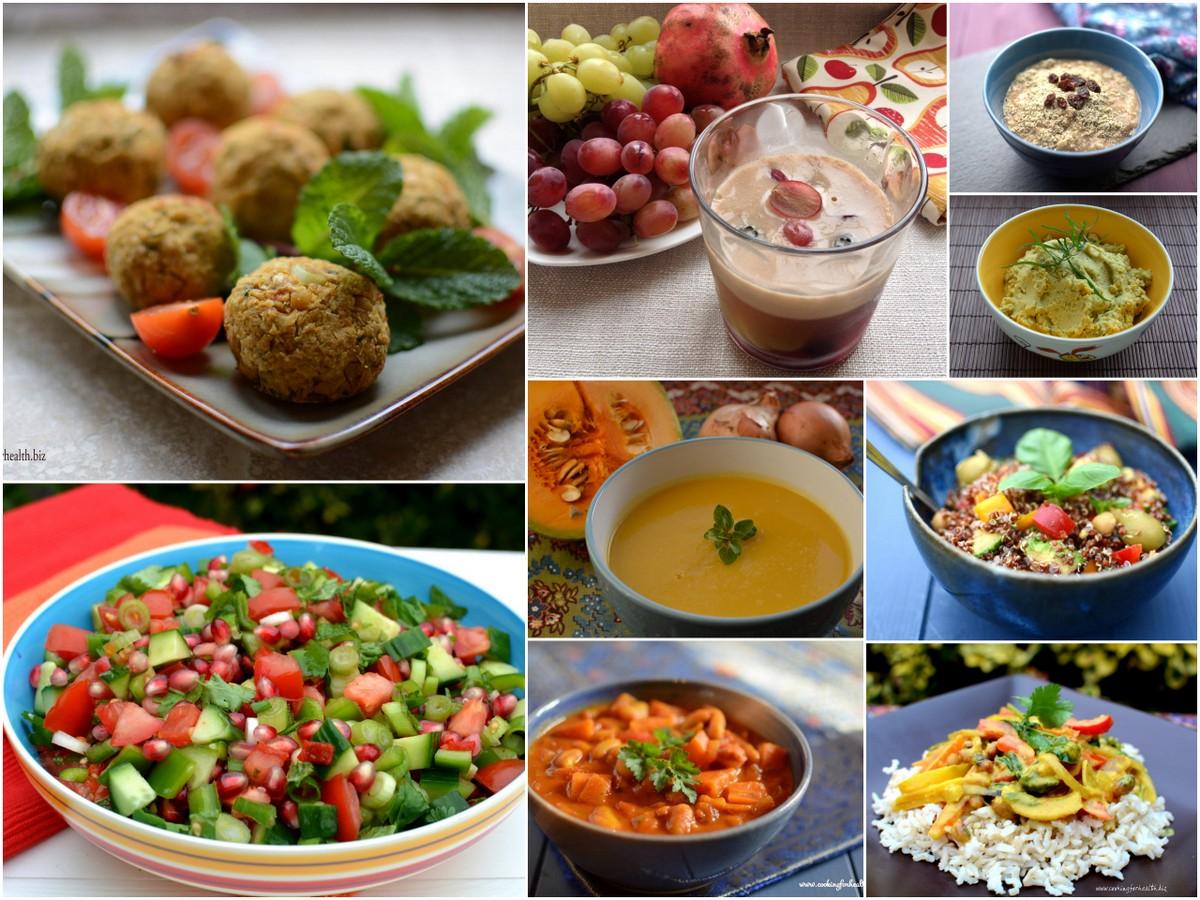 This has not always been the case though.
At one time, I did almost everything in the book you're not supposed to.
I skipped breakfast. Drank at least three black coffees when I arrived at work. Bought chocolate from the vending machine. Ate lunch while working at my computer. Microwaved heat-and-serve ready meals, including meat and dairy products, for dinner. Drank at least one glass of wine every evening. Worked late into the evening. Went to bed late and slept badly, particularly after my babies were born.
It does not take a rocket scientist to work out why my body could not cope with my lifestyle.
My decision to change to a plant-based diet was based purely on scientific evidence about the link between different types of food and health.
Plant-based diets are also less damaging to the environment and avoid cruelty to animals.
Much of what I have learnt over the last 10 years has challenged my cultural and intellectual assumptions about food.
Many of the foods I was taught to believe are good for our health, in fact turn out not to be.
Whilst there are still almost 1 billion people on the planet without adequate food, there are even more people suffering from a different type of malnutrition, caused by eating food with too many calories but not enough of the vital nutrients which sustain us.
Few of these people are happy.
I'd like to change that.
My purpose is to help those who want to take responsibility for themselves to understand which foods are best for their health and inspire them to make simple changes to diet and lifestyle.
My passion is educating, inspiring, coaching and leading gently by example.
My focus is on encouraging you to change what you eat, drink and think.
I do not prescribe nutrient supplements.
Many doctors recommend supplements of vitamin B12 for those on a strict vegan diet, as plants do not contain vitamin B12.
They may also prescribe iron supplements for those diagnosed with anaemia; or complex nutrient supplementation for malnourished patients who require specialist treatment.
Apart from very specific needs such as these, in general, the scientific literature does not support the widespread use of nutrient supplements.
So if you want pills and to carry on eating junk food you are not in the right place.
Telling people what they should or should not do, or creating fear, is not my style. In fact, I believe that fear is as damaging to health as any junk food.
Even though I trained and have worked as a scientist for over 30 years and have all sorts of academic qualifications, I teach from the heart and from personal experience.
I understand the difficulties of changing behaviour and of learning new skills. I know what it is like to work full-time, to have family members who are fussy eaters, to have to prepare meals in a hurry and on a budget.
I know what it is like not to be perfect, even though you want to be.
And yes, in case you're wondering, I do sometimes eat chips and chocolate, though whenever I do, I end up feeling rubbish afterwards.
I also understand how difficult it is to know what to believe.
The sheer volume of conflicting and confusing information in the field of nutrition and health can be overwhelming.
The scientific method is supposed to help reveal the truth but even the scientific literature is rife with contradictions, never mind the popular press.
Even the most highly regarded scientists and physicians in the nutrition world end up arguing with each other at times.
Much of this is due to the fact that research on nutrition is poorly funded, often poorly designed, and frequently directed at reductionist approaches, using individual nutrients out of context as drugs, bearing little relevance to public health.
On top of this, the medical establishment has a tendency to look down on nutrition and cast it as 'alternative', so it receives inadequate attention.
And yet, there is mounting evidence which indicates that, correctly practised, diet and lifestyle can do more to create health and reduce healthcare costs than all the contemporary medical interventions put together.
I love working with people who:
Are willing to take responsibility for their own health

Are committed to putting some time and energy into making simple changes to their diet and lifestyle

Would like help on where to start and encouragement to keep going

Are busy and just want the bottom line - the reliable evidence-based bottom line - and practical solutions
If this sounds like you, please contact me.
Please click here to find out what others have said about me.
If you are interested in finding out more, your first step is to sign up for my free e-newsletter, which will keep you up-to-date with helpful information, recipes and announcements of new courses and programmes.
You can also join me on Facebook, Pinterest, Twitter and LinkedIn and receive content not posted on my blogs (here and here) or my website.
Please explore my website and if you are interested in embarking on a potentially life-changing adventure by working with me, please get in touch.
Like to keep in touch? Please sign up here for free email updates